Please keep in mind Abercrombie & Fitch and abercrombie kids maintain separate websites and require separate checkouts.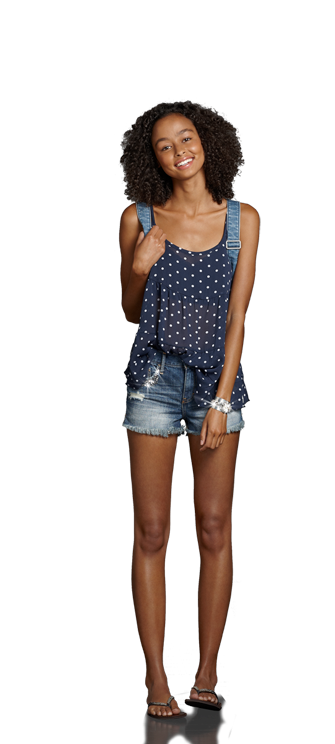 so into summer
SHAKE UP YOUR CLASSIC WHITE BUTTON-DOWN SHIRT BY LAYERING A STATEMENT SWEATER ON TOP. LIGHT WASH CUT-OFFS WITH JEWEL EMBELLISHMENTS ADD A GIRLY TOUCH. STEP INTO FLIP FLOPS AND A SPRITZ OF PERFUME NO. 1 TO FINISH THE LOOK.
Get this look below
Supersoft, chest pockets with button-down flaps, moose embroidery at left chest pocket, scoop hem, Vintage Abercrombie Wash, Classic Fit, Imported

100% cotton
Store Item

140-412-0466-001

Web Item

60831
Add To Wish List
Julia Shirt
$58
Email A Friend
Beautiful shine embellishments, hand-done destruction, frayed hems for cut-off look, right coin pocket, iconic back pocket stitching, Light Wash, Short Short Fit, Imported

100% cotton
Inseam (inches): 2
Store Item

149-565-0134-023

Web Item

65451
Add To Wish List
A&F High Rise Shorts
Shown InEmbellished Light Wash
$128
Email A Friend
Soft cushioned footbed with debossed logo embroidery at heel, pop color upper with logo engraved metal charm, around the ankle strap with vintage buckle, Classic Fit, Imported
Store Item

154-169-0341-001

Web Item

64324
Add To Wish List
Dark Leather Flip Flops
$48
$28.80
Email A Friend
Confident, effortless and undeniably feminine, Perfume No. 1 is the essence of casual luxury. A&F's signature scent captures the uniquely carefree spirit of fresh peony, rich tangelo, and lotus blossom. Crisp pine and white pepper combine for a fresh, beautiful fragrance.

Contains alcohol, Made in the USA

Fragrance can ship to US, UK and most European countries.
Store Item

163-650-0005-010

Web Item

51025
Add To Wish List
Perfume No. 1
$54 | $64
Email A Friend