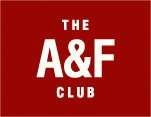 EXCLUSIVE RELAUNCH
COMING 2015
AN ALL-NEW A&F CLUB EXPERIENCE IS ARRIVING IN 2015.
SIGN UP NOW TO CHECK IT OUT!
SIGN UP NOW
MyID is being updated and is currently unavailable.
Instead of using the MyID barcode, please provide your phone number or email address as you're
checking out at the register and your purchase will be added to your account history.